Here's one for Earth Day, a day early.
I'm happy to say that things have changed for the better since I had Mr. Froggie Pants. When I was pregnant and reading about how to have a green baby, everything seemed very fringe. The products they recommended were astronomically expensive, available only by mail order (I'm ok with mail-ordering diapers; paint, not so much) and looked like they would fall apart under normal usage. It all seemed so scary that I just ignored most of it.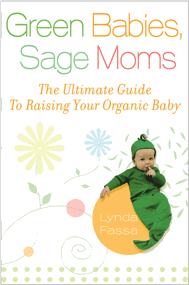 Green Babies, Sage Moms by Lynda Fassa
Now comes this very accessible book, full of solid advice on every aspect of keeping dangerous chemicals out of your baby's life. It's geared towards pregnancy and baby care, but since just about everything in the house affects a baby, it covers enough to be useful to anyone wanting to improve their health and the environment at the same time. Here's a short list: food, beauty products, gifts, cleaning, baby gear, clothes, detoxing the home, outside play, winning over family and neighbors, and connecting to other mothers. The advice is solid, and comes from a woman who didn't want to give up mascara or spend all her time in the kitchen cooking. The reasons for going green are covered without being too scary, and sources are given for everything she recommends. She has numorous small contributions from experts in the field, including makers of chlorine and gel-free disposible diapers and makers of cloth diapers. Every chapter ends with a summary, dividing steps to be taken into three levels of green: evergeeen, pea green, and spring green, with the easiest and most important steps under spring green. That makes it easy to determine your level of commitment or to take things in smaller steps. For example, for food, spring green is buying only the Dirty Dozen fruits and vegetables organic, pea green is buying all organic, and evergreen is buying all local organic. The resource guide at the back includes even more resources than are given in the main text. This is a great start for anyone looking to go organic.