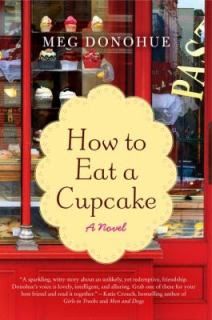 How to Eat a Cupcake by Meg Donohue.
Annie Quintana grew up in the apartment over the garage of the grand St. Clair house in San Francisco. Her mother Lucia, straight from Ecuador, was nanny and baker to the St. Clairs, whose only daughter, Julia, was the same age as Annie. Lolly St. Clair and Lucia were even close friends. And until the trauma and cliques of high school drove them apart, Annie and Julia were best friends. Lucia died suddenly right before the end of high school, causing everything fall apart. Now, nearly ten years later, Annie is working as a baker, while Julia has just quit her high-powered New York job to plan her San Francisco wedding. They meet at a party at the St. Clair's house, as Julia is helping her mother run the party and Annie is delivering cupcakes. Julia is weighed down with a Painful Secret, the cause of which is not spelled out until late in the book but which was immediately obvious to me early on. At the risk of being spoilery, if you are sensitive to pregnancy issues, this book, which looks light and sweet on the surface, is probably not for you. At any rate, Julia is struggling with depression for the first time in her life. Annie's cupcakes bring her the first bit of happiness she's experienced in a long time, and she offers to fund Annie's opening her own cupcakery, sharing ownership during the year Julia's in San Francisco, and transferring sole ownership to Annie afterwards. While Julia did some pretty dirty things back in high school – we find out gradually over the course of the book how awful they were – Annie can't resist the chance to make her lifelong dream come true. They find a beautiful little site in the Mission District and begin work on Treat. Complicating factors include recurring vandal attacks on the store, the reappearance of Julia's ex and Annie's old crush Jake Logan, and the continued disappearance of Lucia's old journal, which contained both her thoughts and her recipes. I was expecting this to be more typical chick lit, with heavy focus on the romance, but while there is a little romance, it's secondary to Annie and Julia's re-developing friendship, and love interests fade in and out without the usual angst. For the cupcake lovers, there are some nice descriptions of Annie's fancy cupcake flavors, but no cupcake baking tips or recipes, as there were in
The Icing on the Cupcake
. (I still dream of making the ginger lime cupcakes from that book – yum!) I often find that the villains in these books feel tacked on – the real conflict lies in the relationships and character growths, and while that is still the case in this book, it's a little better engineered than others. Annie and Julia both show convincing character growth, and I was rooting for both of them and their cupcakery.