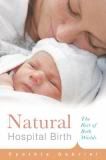 Natural Hospital Birth by Cynthia Gabriel
Even though I feel quite done with having children, I am fascinated with birth, and I definitely want to be able to recommend good recent books to friends who are having babies. I had pretty low expectations of this book when I picked it up off the waiting-to-be-cataloged cart. The introduction hooked me enough that I checked it out and took it home as soon as it was ready. Gabriel starts off by talking about why people who want to give birth naturally might choose a hospital, even though American hospitals are quite inexperienced with natural births right now. The part that hooked me is that what she tells women is that she aims for a natural birth because she loves it. But, she has excellent creds for writing the book. She's an anthropologist who worked in Russian hospitals where epidurals are rare, and a doula who attends births in Ann Arbor and therefore, unlike an OB, sees lots of births from start to finish. She advocates using doulas or home-birth midwives to help find the most natural-birth-friendly hospital practice you can, then building support rather than fighting by doing things like bringing in a natural birth story and talking about your hopes for a natural birth each visit. She strongly recommends that unless you are a health care professional yourself, you argue the emotional benefits of a natural birth over the health risks of a medically assisted one. She goes into some depth over writing a birth plan, recommending three separate ones: one for just you, describing your not-reality-tethered dream birth; one for your birth team (husband, doula, whatever friends you invite to help with your birth) detailing what they can do to help with that, such as turning off lights when staff members leave and answering questions on your behalf; and one short, sweet and positive one for the medical staff. Be sure, too, she says, to take a birth class out of the hospital, to help prepare for the tough realities of labor rather than just be educated on the hospital routines. She has sections detailing lots of individual snags you might run into, and longer sections for the tough cases of abuse survivors, multiples, and VBACs. The book is filled with positive birth stories and lots of encouragement. This is a very solid book, highly practical for anyone planning a hospital birth.
Crossposted to
http://sapphireone.livejournal.com
and
http://library-mama.dreamwidth.org
.