It's another bestseller. But it wasn't on the bestseller list when I read a review of it and decided that it looked too fun to pass up. I even had to return it partway through and go back on the hold list for it, due to an unfortunate number of exciting books coming in all at the same time.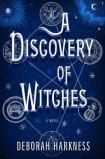 A Discovery of Witches by Deborah Harkness
Dr. Diana Bishop, student of alchemy, has been trying for most of her life to forget that she was born a witch. After all, being witches cost her parents their lives. She doesn't use magic or associate with other witches. And while the magical community back in upstate New York was used to that, the witches at Oxford are being less understanding that she's only there to do research for an upcoming paper. Two things happen that bring already simmering tensions to a boil. First, large numbers of supernatural creatures witness Diana find and even open a lost alchemical manuscript that has been magically hidden in the Bodlein Library for years. And then, an ancient vampire named Matthew Clairmont, witnesses her use her magic when she thinks she is alone. Soon magical creatures of all three types – daemons, witches, and vampires – are pressuring Diana to retrieve the manuscript again and share the contents with them. Somehow, she finds herself trusting the vampire more than anyone else. I loved all the clearly well-researched history in this book. I liked that the vampires weren't only a century or so old, but really, really old, with Diana's family having similar roots in Salem history. Matthew speaks Provencal and quotes troubadour poetry on occasion. The witchcraft is a blend of modern paganism with traditional storybook spell craft, which works well in a fantasy set in a realistic modern world. This is a book steeped in a love of books and history, with self-discovery, adventure and romance. It's exciting both in characters and story to be interesting, while still feeling like literature rather than fluff. (I got into a whole conversation about this with another mother who was reading this as our children were at physical therapy.) I did get a sinking feeling as I got towards the end of the book and realized that there was no way the story could finish in the number of pages remaining. Sure enough, it's a fat fantasy book with two more presumably just as fat planned to follow. But more good books aren't a bad thing, right? I was also quite amused to note that you can friend not only the author but also Diana and Matthew on Facebook, and that Harkness has playlists for the main characters available on
her website
.