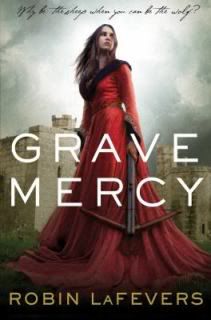 Grave Mercy, His Fair Assassin Book 1 by Robin LaFevers.
The setting is 15th century Brittany. Ismae is a peasant's daughter with an abusive father. When the man he marries her off to turns out to be abusive as well, she runs away and is taken in by the convent of St. Mortain. St. Mortain is the local patron saint and former god of Death. His daughters, feared by the populace, join the convent, where they are trained as sacred assassins. The Sisters only slay those who bear the magical Marque of St. Mortain, visible only to them. Ismae finds her first real home here, and makes friends with a girl her own age, Annith, as well as another new if somewhat crazed girl Sybella, who rather soon goes missing. She finds that being the daughter of Death makes her immune to poisons, so she works with one of the older sisters distilling poisons. However, in a few years (neatly skipped over), Ismae is sent on her first real mission. At this time, Brittany is not yet part of France and is ruled by a young teenaged Duchess, Anne. She is surrounded by advisors of dubious loyalty, formally engaged to about six different men. Obviously considered weak due to her age and sex, the Duchess is also the richest woman in Europe. The Abbess and a trusted royal advisor, Crunard, send Ismae off with Duchess Anne's bastard half-brother, Duval, to find proof that he is a traitor and with whom he's conspiring. It's slightly problematic that the convent is sending a novice on what would seem to be an operation requiring one of their most experienced nuns. However, I was willing to sweep this under the rug in the interests of the story. Naturally, the politics turn out to be a good deal more complicated than Ismae had been given to believe. Duval seems not at all the traitor he'd been made out as. Instead, Ismae finds him nearly the only person undivided in his loyalty to the Duchess. But can she be sure of this, or is their growing attraction masking some deeper truth. Despite these doubts, Ismae start plotting with Duval and Duchess Anne to find out who the real traitor is and how to stabilize Brittany without either giving in to France's demands to annex Brittany or marrying Anne off to someone loathsome. Ismae will have to look beyond the convent's formal rules and trust herself to be able to see the will of Mortain himself if they are to succeed.
The book has a whole lot of things going for it. Ismae starts off and remains an appealing smart-mouthed character, while growing convincingly in skill and self-esteem over the course of the book. Anne, I was interested to note, was a real character and did indeed have all the fiancés mentioned in the book. It turns out she was married to two separate men at the same time, in politically necessary marriages. If only she'd had a personal saint-backed assassin in real life! There's some difficult feminist thinking here. The convent, in historically accurate manner, is a place for women to go to escape the overwhelming control of women by men. The difficulty comes when Ismae realizes that she's attracted to men. Is she losing sight of the goal of feminine self-determination by falling in love, as a
New York Times columnist thought
? Or is seeking the rare man who will view her as an equal acceptable? It is, as my friend garrity pointed out to me, the perennial feminist dilemma, and probably wouldn't seem like any kind of betrayal of feminist values had the story not started out with Ismae being saved by the convent. The book seems quite historically accurate, given the fantasy elements. The cover, not quite so much. There she is, long, loose hair blowing around. It's a pet peeve of mine: no self-respecting woman from the medieval era on until the 1960s would be seen outdoors without some sort of head covering. And yet, would we grasp Ismae's fierce, wild nature without that symbolic rebellious hair? In any case, there's both thoughtfulness and humor combined with lots of action, a fleshed-out world and good characters – what's not to like?