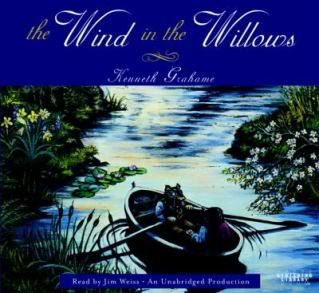 The Wind in the Willows by Kenneth Graham. Read by Jim Weiss.
I have fond memories of my father reading this aloud to my siblings and me when we were children, but this was the first time I'd listened to it as a CD book, and my son's first time ever. Ah, going back to old favorites! I remembered it having the fun animal adventures, with those great, memorable characters, and I remembered it having a summery feeling. Listening again, the characters still stand out as memorable. The book is mostly episodic, with stories about Mr. Mole meeting Mr. Rat, Mole disobeying Rat and going into the Wild Woods by himself on a winter's evening. There are my father's favorites, "Dulce Domum" about the Mole's return to his own home after living with the Rat for some months, and entertaining the little mouse carolers there, and "The Piper at the Gates of Dawn", where the Mole and the Rat have a magical encounter with the god Pan. They are really lovely. That transcendence is combined with a more slapstick humor in the stories of Mr. Toad's reckless misadventures, and the stories are bound together with lyrical descriptions of the scenery with the turning of the seasons. While I found these descriptions beautiful, I worried that my blood and action loving son would find them slow, but he gave the book a thumbs up. Like
The Lord of the Rings
, The Wind in the Willows takes place in a homosocial world: there are no female main characters, and the only two incidental female characters occur in the same story of Mr. Toad escaping from jail. This, I think, dates the book more than any other aspect of it. I am willing to forgive Mr. Graham because that really was the world he lived in, where men and women just lived in highly separated spheres (and I am glad it's not like that anymore!). I had mixed feelings about the narrator. He did very well with the numerous and lengthy narrative portions of the book. I liked all of his character voices except for Mole and Ratty, which was a bit awkward as they are the two main characters. He made the Mole sound lower class and the Rat sound more educated, which was a bit odd, and somehow his reading of both of these characters annoyed me just a little bit every time. I see that my library has the book in a downloadable audio format with a different narrator, and I'd be curious to try that version to see if I like the narrator better. Still, we very much enjoyed listening to this book. It's definitely still worthy of the "Classic" title. Just in case there was any doubt.