Suddenly, a few months ago, it felt like time to try exercising again. Little things kept cropping up – more trouble with the tendinitis in my wrists (typically a sign of overall weakness), feet that were pointing farther and farther out, and more and more people asking me when I was due, despite my being at a healthy weight and definitely not pregnant. This review is therefore both a review of one book and a Quest for the Perfect Fitness Program.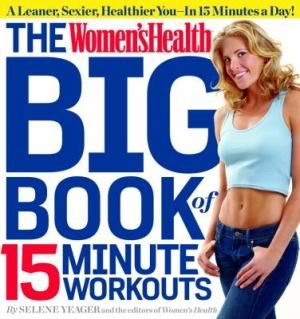 The Women's Health Big Book of 15 Minute Workouts by Selene Yeager.
I had to wait several months for this book, as I was not the only person in the library who thought that 15 minute workouts were a fabulous idea. For my own benefit, and for yours, dear reader, once I got my hands on the book, I decided to follow their program for the full three weeks that I was allowed the book (there is still a wait list on it, so I couldn't keep it longer.) Their program is to do their workouts every other day for a total of three days in the week, alternating with light aerobic activity and/or stretching on days 2 and 4 – I chose hoop dancing for my light aerobic and my old standard
Postnatal Yoga with Shiva Rea
for my stretching. Day 6 is high intensity aerobics from the book – I did jump roping, as it was the only one I could do from home with equipment I already have. I developed a love-hate relationship with this book. I will share with you the good and the bad:
( Read more... )
All in all, I had a lot of fun with the book. I was able to stick with the program, which is in itself amazing, and am already noticing benefits in my increased strength and fitness. Now that I've been without the book for over a week, trying to still stay active, I find that I miss it. I'm still debating whether or not to get it. You might enjoy it if you want a book with a good choice of intense but short work-outs with clear instructions
And on to the fitness quest - the diastasis thing is big for me – part of the benefit of having a book of routines rather than a book of individual exercises is having the workouts put together for me already. If I then have to substitute a lot, that takes the ease out of it. I know, I've
talked about the diastasis issue before
. I even bought
Lose Your Mummy Tummy
, and still do the basic
Tupler Technique
exercises (almost) daily. (As long as I'm making a linky post, I might as well link to her site, too.) Why not just go on with her full workout? Well… partly because I hadn't read the book in some years, partly, sadly, because her very detailed instructions with little black-and-white photos are harder to follow than the instructions in the 15-Minute book, and partly because she recommends a 30-minute low intensity workout. 30 minutes is harder to come by than 15, and I found that, despite my normal aversion to sweat, I was enjoying the intense 15-minute workouts and the challenge of exercises that I couldn't do right away but got closer every time.
This sent me out on a hunt – could I find someone who combined the fabulous 15-minute workouts with diastasis healing and prevention? It turns out that this thinking on diastasis seems to be pretty much in the minority. Even Shiva Rea does several exercises that Tupler says would worsen or create a diastasis – notably the cross crunches and the bridge pose. What my quest turned up was the
Mutu System
, founded by a British mum. It's not a book or a dvd, but a more expensive 12-week online (if you're not local to her) total fitness program with 15-minute workouts, including diet advice (which I don't need, but of course many people do.) The program includes email support (again, I think phone if you're in the UK), which I think increase the odds of success over a simple book… even if watching a computer video in the presence of my daughter will have her begging for "Elmo's Ducks". At this point, I am seriously considering this program. On the surface, it's a lot more expensive than the 15-Minute book, but I think that the 15-Minute program is more expensive in the end, since it uses more expensive equipment, where I already have everything I need for the Mutu System.
I am still trying to keep up with the 6-day a week fitness program, sometimes doing something like that from the 15-Minute book and sometimes doing the Mummy Tummy exercises, which do feel very effective. I'd say I'll follow up with results, but since this is a book blog, not a fitness blog, I'll probably follow up only if there's interest expressed.